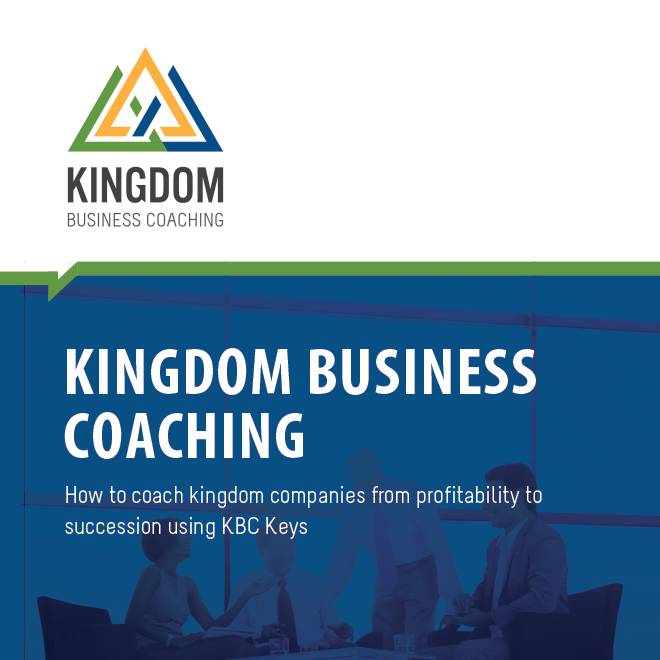 KBC Coach Certification
How to coach kingdom companies from profitability to succession
Special Offer Price (limited to 12 seats only): $10,000
E-Community discount applies
Are you a business coach or an entrepreneur/executive with at least 5 years experience and a desire to start your own coaching practice? Do you want to learn new tools to enhance your current coaching practice? Do you want to generate more coaching opportunities while making an impact in the marketplace?
Everyone calls themselves a coach these days but very few people are actually making a living doing it. Coaching is not just a calling but a skill and a profession that can enable you to make a nice living while positively impacting the lives of people. Kingdom business coaching goes beyond making a living and impacting others, it also enables you to make a transformational difference. Kingdom business coaching is helping entrepreneurs and companies achieve transformational results with an eternal impact.
This coaching certification course is a 62-hour, three-part training program designed to help existing coaches and aspiring coaches master the fundamentals of coaching from a kingdom perspective while learning a tested and proven kingdom business coaching system to help entrepreneurs and executives move their companies from profitability to succession.
Throughout the course, you will learn:
The proven KBC Keys to Kingdom Business Success so you can move clients from profitability to succession.
To assess companies using the KBC Keys and business life cycle.
The fundamentals of the science of coaching to improve your coaching technique.
How to coach using the proven KBC coaching system.
How to develop a success plan for clients that achieve results.
Living out the greatest commandment
Being relational versus transactional
Loving God
Loving self
Loving others
Integrating your values
Identifying your business life cycle
Understanding the importance of growing your top and bottom line
Learning how to grow your top and bottom line
Everyone needs a coach
The science of coaching
Kingdom business coaching
The KBC coaching system
How to develop a success plan
Case study
Be part of a 6-month mentoring relationship with an experienced coach to ensure that you master the tools you have learned and achieve sustainable results in your coaching practice.
Bonus: Learn about an opportunity to license a group coaching business system that will enable you to generate $100K a year within three years.