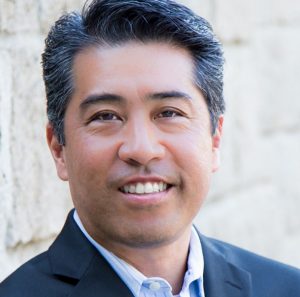 Our host, Robert Fukui is a certified teacher and coach and the president of i61 Business Development Network. Robert holds a Bachelor's degree in Marketing from San Jose State University and an accomplished 24-year career in marketing/sales with companies such as Coca-Cola, Novartis Pharmaceutical and Bristol-Myers Squibb.
Over the course of his professional career, he has been privileged to be instrumental in the launch of six major brands, personally responsible for over $150 million in revenue and a recipient of national sales and leadership development awards. His successful experience in sales/marketing through ever-changing economic conditions has positioned him to be able to assist other businesses to achieve similar success in any economic environment.
The ROI of Personal Development
Ever wonder how you can take your performance to the next level? Or develop your leadership skills to attract and retain top talent or take your business to the next level? In this episode, we explore the value of professional development services, such as training, coaching, consulting, mentorship, and mastermind groups. In your personal life, these services can help you achieve a greater sense of well-being, impact, and quality of life. In business, your focus may be higher growth and increased profits. Our guest, Scott Landis, helps us explore this topic and shares about his newest endeavor, the Awakened Man Mastermind.
Let me know if you need anything else. Thank you for all that you do to prep and post the podcast!
Key #5 to Scaling Your Business – Succession and Exit
Why is the topic of succession and exit of a business one of the 5 keys to scaling a business? You'll have to tune in to find out. But in short, the preparation it takes to exit a business takes years to do well. Unfortunately, most don't so that is why only 30% of businesses make it to the 2nd generation. When planned and executed well creates the foundation for the business to scale. This topic is coincidentally appropriate to the transition of this very podcast. Another teaser that you will need to tune into to find out more. Great things ahead!
Key #4.5 of 5 – 4 Keys to Marketing Success
Many businesses struggle with marketing when it doesn't have to be that way. In order to put together a strong marketing strategy you need to understand the fundamentals of what marketing is all about and the key principles that all successful marketers employ. Once you understand the fundamentals and principles of marketing can then become simple for you to develop and execute. Listen to this episode.
Key #4 Right Leader in The Right Seat
When it comes to building your business for sustainable growth a lot of attention is paid to marketing, sales, equipment, software, manufacturing, new channels of distribution and more. These are strategies and infrastructure improvements that will help the business grow. But how much attention is paid to the most important resource that is the key to sustaining that growth? You as the leader. Are you doing the right things that will grow the company. You're heard the phrase, Get the right people on the bus in the right seats by Jim Collins in his book, Good to Great. But what about getting the Right Leader in the Right Seat? I'm not advocating changing leaders. What I'm saying is to make sure the leader is focused on doing the right things and let get rid of everything else. In this episode, we will discuss what you as the leader need to consider to build a solid team that will take your business to the next level of growth.
The Danger of the Side Hustle
Many employed people and even business owners are contemplating or have started a side hustle to earn a little more cash. This concept is not knew but the terminology and promotion is becoming more commonplace. Some of the advertisements and promotions of side hustle businesses make it seem easy but there are some dangers to watch out for as you embark on this side hustle journey. This episodes explores the dangers of the side hustle and some possible solutions to creating a solid source of additional revenue.
Key #3 of 5 Keys to Scaling Your Business – Go To Market Strategies
Long term success of your business and brand starts in the beginning with your Go To Market Strategies which isn't necessarily your marketing strategy.

So, whether you're in startup mode, launching a new initiative or struggling with a current one, you may need to refine your go to market strategy after listening to this interview with My guest Susan Schramm of Go To Market Impact LLC
Key #2 of 5 to Scaling Your Business – Have fun with numbers
The most common area that many business owners don't want to spend a lot of time in is the financial statements. That's because most have not been formally trained in this area or have an interest in it. Unfortunately, it's not enough to have a bookkeeper and/or accountant as you need to know the numbers for yourself. You don't have to be an expert but you need to know enough so you can identify the weak spots in the business by looking at the numbers with the help of your accountant. Every piece of your business is represented in the financial statements so it's important you understand how it all relates. You do this well and you will be able to identify what's holding back growth and make adjustments accordingly. Ready to make your business grow? Listen to this episode.
The first key on the 5 Keys to Scaling Your Business
These are the same principles and steps I use to help my clients grow their business and goes beyond marketing, sales, systems, etc. Key #1 to scaling your business has everything to do with you as the owner. Yes, you are Key #1.
Pricing is Positioning
Adjustments into your pricing strategy can be the quickest way to increase profitability and build a sustainable business. Unfortunately, this is commonly overlooked by most businesses and they continue to struggle financially. Consultants, coaches, and trainers are a group of business in particular that struggle in this area. Listen to this fun and informative conversation with my friend Paul Klein who specializes in helping executive level professionals transition from their corporate or government roles to starting and scaling their own 7-figure consulting or freelance business. If this sounds like you, click to listen.
Marketing Lessons Learned
Many businesses learn their marketing approach through trial and error. While it is true that we can all learn from our mistakes, it's also pretty cool if we can learn without the mistakes. Of course, you can never fully prevent mistakes, but it is possible to put knowledge on your side and learn from someone else's mistakes. This episode I share some of the marketing insights I've gained over 25 years as a marketing professional and consultant and how I continually stay up on my game….which can benefit all business owners.