To matter means to feel valued and needed. It is about possessing a sense of significance. The entrepreneurial journey can often feel isolating and unrewarding. It's a path filled with challenges and tests that can make you question your worth.
But here's a reminder:
YOU MATTER!
You matter to your family, as you provide for their well-being and dreams
You matter to your clients, as you fulfill their needs and expectations
You matter to your employees, as you offer them opportunities and livelihoods
You matter to your vendors, as you enable their businesses to thrive
You matter to your church, as you support its mission with your time, talent, and treasure
You matter to your community, as you act as a catalyst for positive change
You matter to God, as you represent His values and principles in your industry
And most importantly, you matter to us!
CELEBRATING MEMBERS MONTH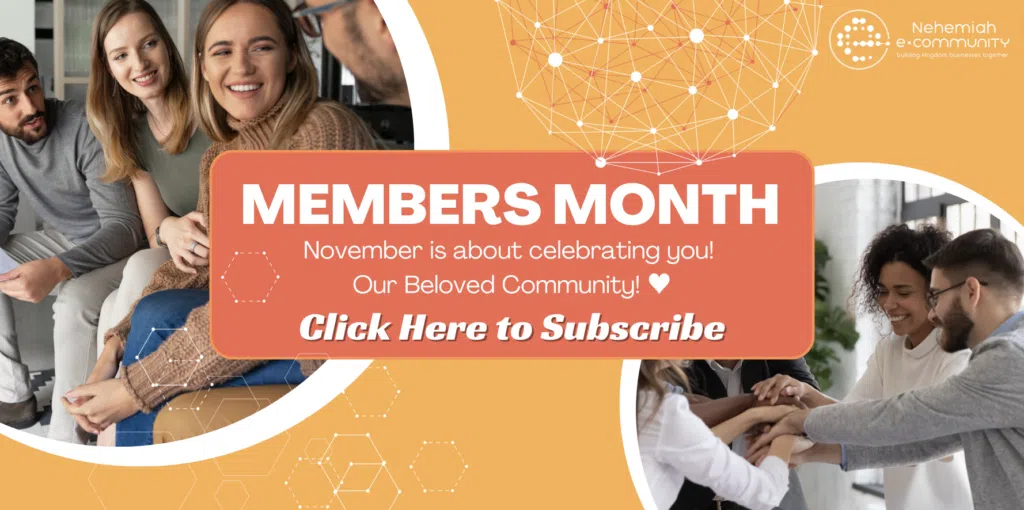 That's why we are dedicating the entire month of November to celebrate you!
With your dedication, your family can make ends meet.
With your commitment, your client's needs will be satisfied.
Without you, your employees would be without jobs.
With your collaboration, your vendors can sustain their businesses.
With your involvement, your church can carry out its mission effectively.
With your engagement, your community gains a valuable change agent.
With your faith and principles, you become an ambassador for God in your industry.
Without you, our mission to build a global Kingdom business community would remain unfulfilled.
You matter to us, and your contributions are truly valued. Thank you for being an essential part of our community.
To receive more information about Members Month, how you can save on membership, and win prizes, subscribe to our Members Month Newsletter by clicking the button below:
We'll also provide opportunities for you to save on membership upgrades through our special Members Month discounts. If you're not yet a member, this is an excellent time to consider joining our community.
Thank you for choosing to belong to the Nehemiah Entrepreneurship Community. We hope to continue to be a safe place where Christian Entrepreneurs from all over the world find a supportive network of Kingdom business trainers, coaches, and mentors, as well as business support services, to grow their businesses. Our community includes an ecosystem of like-minded, shared-value entrepreneurs who are committed to building Kingdom businesses globally.
To learn more about becoming a member or upgrading your membership, click on the button below:
For more great articles that provide you with insights to help you with your entrepreneurship journey from discovery to succession, click HERE to view the Nehemiah Entrepreneurship Community's library of Kingdom Business Leaders Resources.
Interested to know more about upcoming events and educational opportunities offered by the Nehemiah Entrepreneurship Community? Click HERE!
---
Get yourself Nehemiah devotionals, transformative content, podcasts, and updates on all that is happening in the Nehemiah Entrepreneurship by subscribing to our newsletter for absolutely FREE! Click on the button below to get yourself subscribed: