On August 19th, 2023, the winner of the 2023 International Business Plan Competition (IBPC) was crowned, and it was none other than the African region representative, Claudia Waithaka! Coming from the Nehemiah Entrepreneurship Community Nairobi Center, Claudia presented her Kingdom Business Plan and answered the questions brought forth by our esteemed panel of judges during the competition with confidence and poise. So much so that she was also named the winner of the Audience Choice Award.

The IBPC is a yearly affair that takes place in conjunction with Nehemiah Week. The legacy and history of the IBPC which has been going strong for more than one decade can not be overstated. Every year, competitors qualify to compete in IBPC by becoming the best that their regions have to offer. This is no easy feat, as the competitors have to first complete our Biblical Entrepreneurship Program and then emerge victorious in their respective Center, Country, and Regional Business Plan Competitions.

Claudia competed against the North America region representatives, Jacob & Tiffany Quiñones, and the Europe region representative, Nadya Koleva, who won second and third place respectively. Congratulations to all the competitors, and may they continue to transform the marketplace with the Gospel of Jesus Christ moving forward.
CLAUDIA WAITHAKA – WINNER OF THE 2023 INTERNATIONAL BUSINESS PLAN COMPETITION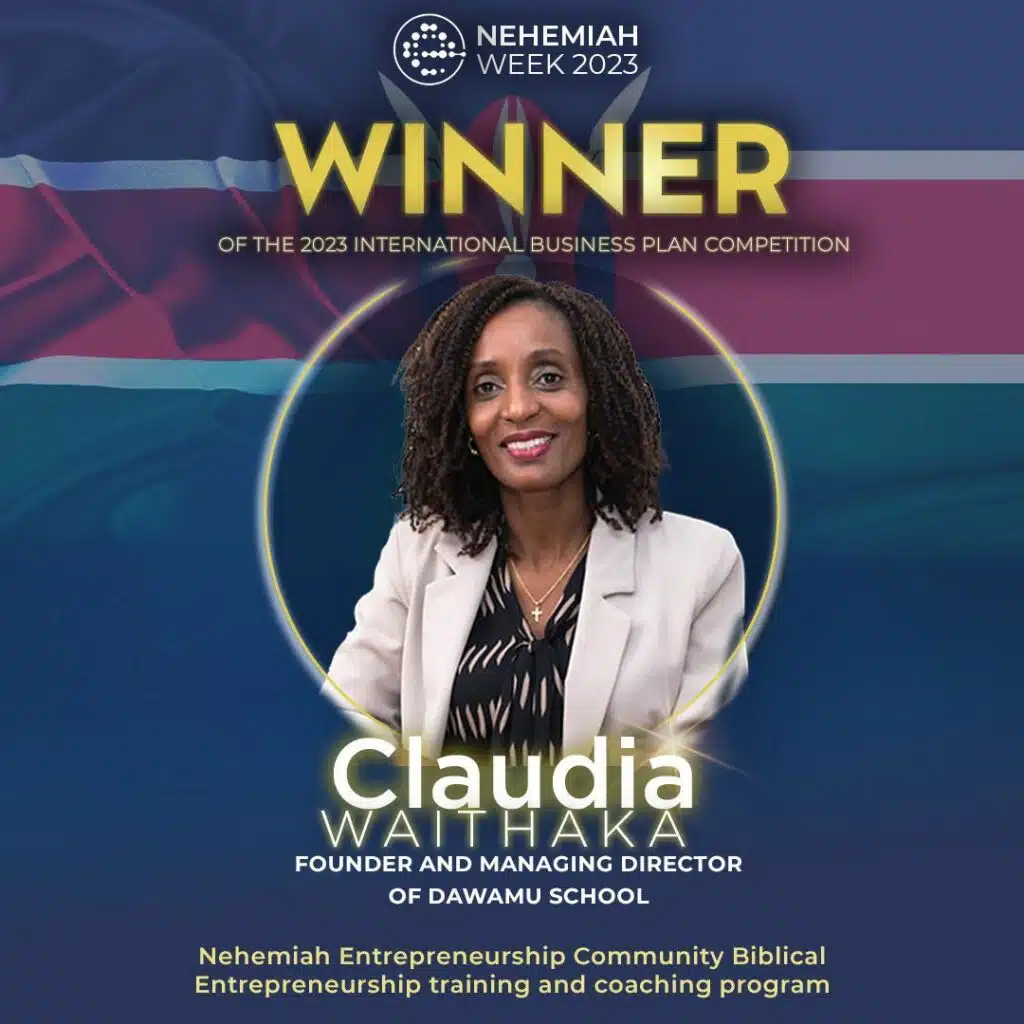 claudia waithaka is the founder and managing director of Dawamu School. Prior to founding the school, Claudia received academic degrees, an IFC certification, and gained experience in advertising and farming. This led to three years ago when she first interacted with the Nehemiah Entrepreneurship Community. She then enrolled in the Biblical Entrepreneurship training and coaching program with the goal of improving her business and raising the necessary capital to expand her facilities.
Dawamu School is a junior and senior secondary boarding school for boys with a special emphasis on imparting leadership skills and teaching them about the growing digital economy. With poverty and inequality being so prevalent in Africa, Dawamu School is to be the solution. A school that offers young boys skilled-based learning, prepares them for a life of responsibility, and transforms them into leaders all through their 'Joseph Plan'; a model based on kinship by adoption where fostering a mentorship-based environment gives them the best chances at success. Having made a little over $1 million in revenue in 2023, Claudia is projecting to generate close to $2 million by year 4, with an annual average revenue growth of 30%. Her Kingdom impact is her passion for protecting the next generation of young boys, as well as the calling she feels to breathe life into what once seemed dead. She hopes for this seed of change to affect not just Kenya, but eventually all of Africa.
After being crowned the winner of the 2023 IBPC, Claudia took the time to talk to our Chief Servant Officer, Patrice Tsague, together with the E-Community Center Director of Nairobi, Kenya, Frank Kitonga. She shared some of her experiences, motivation, and plans moving forward. If you wish to know more about her story, watch the full video below:
Claudia's journey towards being our winner this year began with her commitment to being a part of our Biblical Entrepreneurship Program and seeing it through to the end. If you wish to take part in next year's IBPC and stand a chance to win prize money worth up to $10,000, sign up for our Biblical Entrepreneurship Program today by clicking on the button below:
For more great articles that provide you with insights to help you with your entrepreneurship journey from discovery to succession, click HERE to view the Nehemiah Entrepreneurship Community's library of Kingdom Business Resources.
Interested to know more about upcoming events and educational opportunities offered by the Nehemiah Entrepreneurship Community? Click HERE!