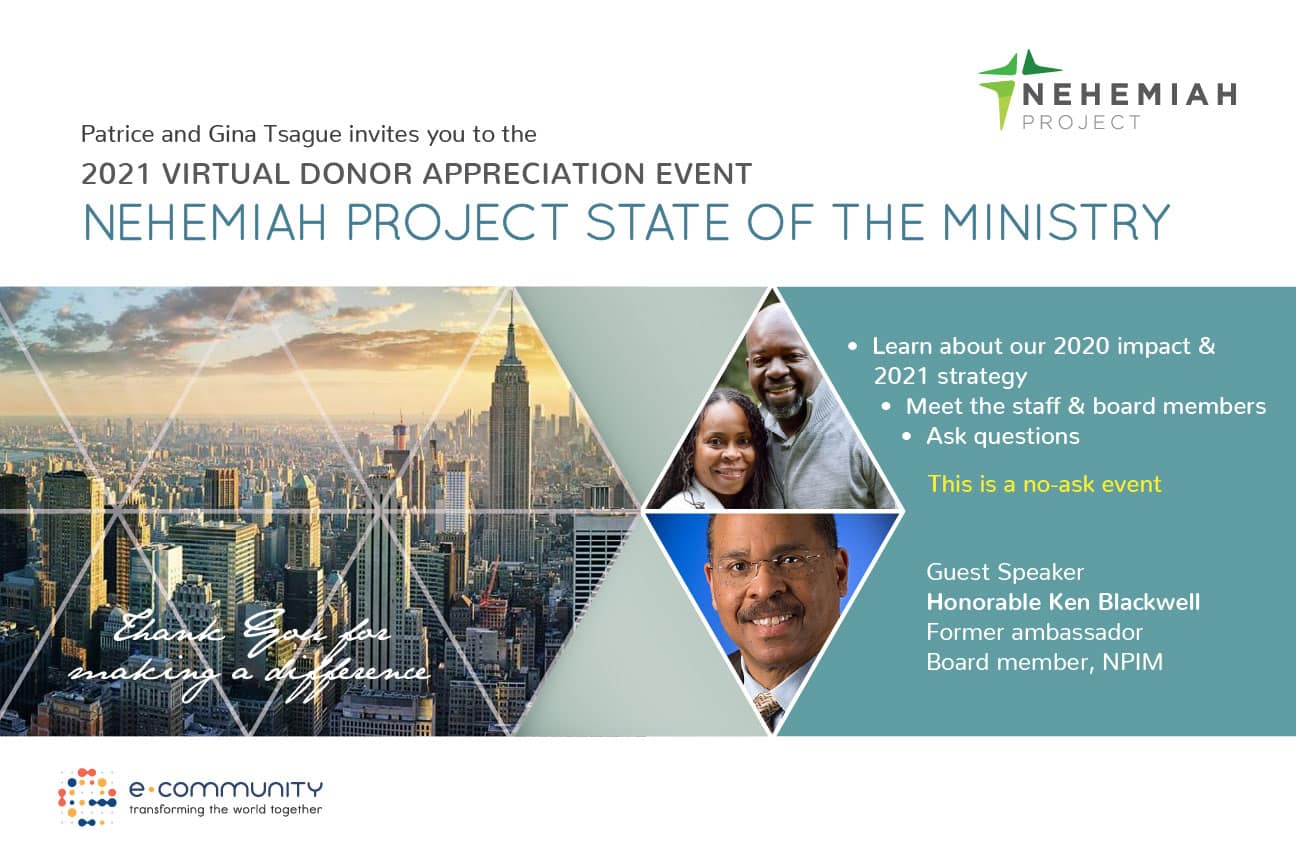 State of Ministry
16 January 2021 @ 7:30 am

-

9:00 am

PST

|

Free
NEHEMIAH PROJECT STATE OF THE MINISTRY
JUST TO SAY THANK YOU
2020 has been a difficult year for humanity as we faced the Covid-19 pandemic, social unrest, and economic uncertainty. Despite these challenges, we had one of the greatest impactful years in history. We provided over $100K in scholarships to help entrepreneurs access our training and coaching services, and provided $65K of new capital to two entrepreneurs in Kenya, bringing our total capital investment in businesses to date to $2.3 million. We provided training and coaching to close to 3K entrepreneurs in 12 countries, and established the first locally-owned, profitable and sustainable Nehemiah Entrepreneurship Community Center in Nairobi Kenya. None of this could have been done without your help. Your financial contribution, prayers, and for some of you, gifts of time, made it happen.
We want to say thank you!
Join Patrice and Gina Tsague at the 2021 Virtual Donor Appreciation Event at 7:30am – 9:00am US Pacific time / 10:30am – 12:00pm US Eastern time to hear the state of the ministry. You get to learn more about our 2020 impact, meet the staff and the board members, and ask questions. Learn about our 2021 strategy and how your investment will be used for efficiency, impact, and growth.
This is a no ask event. Please join us so we can thank you for the role you played in making a difficult year impactful and learn about what is ahead. You will also hear words of inspiration from our guest speaker and board member, Honorable Ken Blackwell.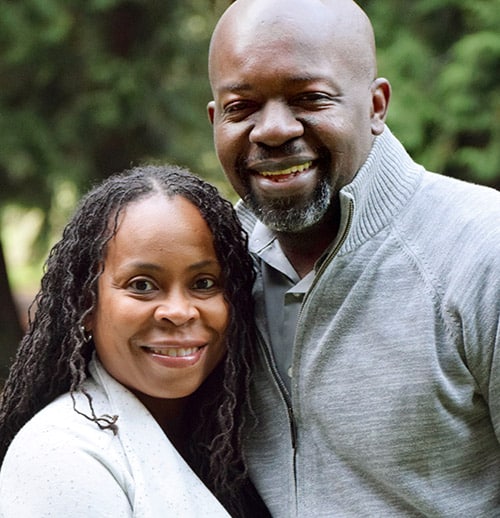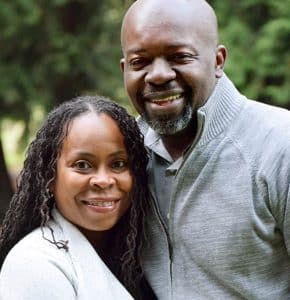 Patrice and Gina Tsague – Founders
Patrice and Gina Tsague have been entrepreneurs since they were 19 and 20 years old. They co-founded several non-profit and for profit organizations including Multi-Cultural Youth Educational Organization, Nehemiah Project International Ministries, PG & Associates, and Kingdom Business Coaching. Through these organizations, they have trained and coached over 20,000 individuals on how to start or expand their businesses using business training and coaching principles found in the Bible in over 38 countries. They have authored several books and training curriculums and publish a weekly e-devotional and podcast for entrepreneurs and business executives that are released to over 4,000 individuals globally. They also serve on several boards to include the Timothy Plan, Cornerstone Christian Academy for Learning and Leadership, Salt and Light Council, etc… Patrice and Gina are proud parents of two girls, Gabrielle and Danielle Tsague. The Tsague family currently resides in Vancouver, Washington.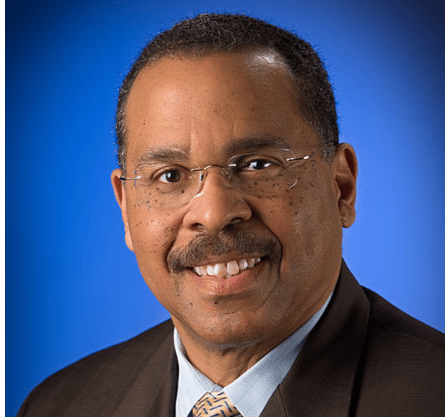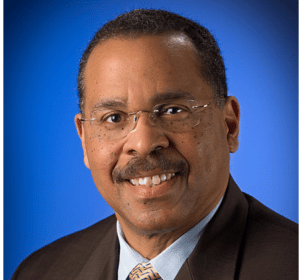 Ken Blackwell – Board member
Ambassador Ken Blackwell has had a distinguished career including serving as mayor of Cincinnati, Treasurer and Secretary of State for Ohio, undersecretary at the U.S. Department of Housing and Urban Development, and U.S. Ambassador to the United Nations Human Rights Commission. Ken Blackwell is the Senior Fellow for Human Rights and Constitutional Governance at the Family Research Council, as well as a board member of the Nehemiah Project. He is a national bestselling author of three books.
He has received many awards and honors for his work in the public sector. These accolades include the U.S. Department of State's Superior Honor Award for his work in the field of human rights which he received from both the administrations of President George H.W. Bush and Bill Clinton. In 2004, the American Conservative Union honored Mr. Blackwell with the John M. Ashbrook Award for his steadfast conservative leadership.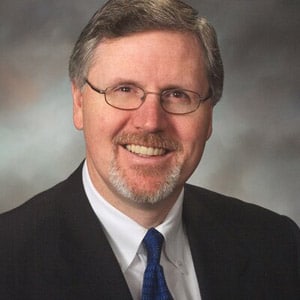 Ron Wilkinson – Board Chair
As a founding partner and in practice since 1981, Ron is a Certified Financial Planner® since 1986, and a Certified Financial Transitionist® since 2014. As a Certified Financial Planner® and Certified Financial Transitionist®, Ron helps bridge the two sides of money – the numbers and the personal side.
Ron has served as President, Chair of the Board of the Oregon Society of the Institute of Certified Financial Planners, and has served on the National Education Committee for the Financial Planning Association.. Ron is a member of the Financial Planning Association, Money Quotient, Sudden Money community, and serves as board chair of Nehemiah Project International Ministries.
Ron is active in his community. With a passion for giving back and helpings others to understand how to give, Ron has been involved in several community programs. Born in Portland Oregon, Ron enjoys golfing, boating, camping, travel, and weekends away with Karen, his wife of 46 years. They have 5 children, and 15 grandchildren and most reside in the Vancouver, Washington, and Portland, Oregon area.
Share This Story, Choose Your Platform!