Build to Last – A Blueprint for Couples in Business with Patrice & Gina Tsague
October 2, 2021 @ 8:00 am

-

11:00 am

EAT

|

Kshs5000 – Kshs9000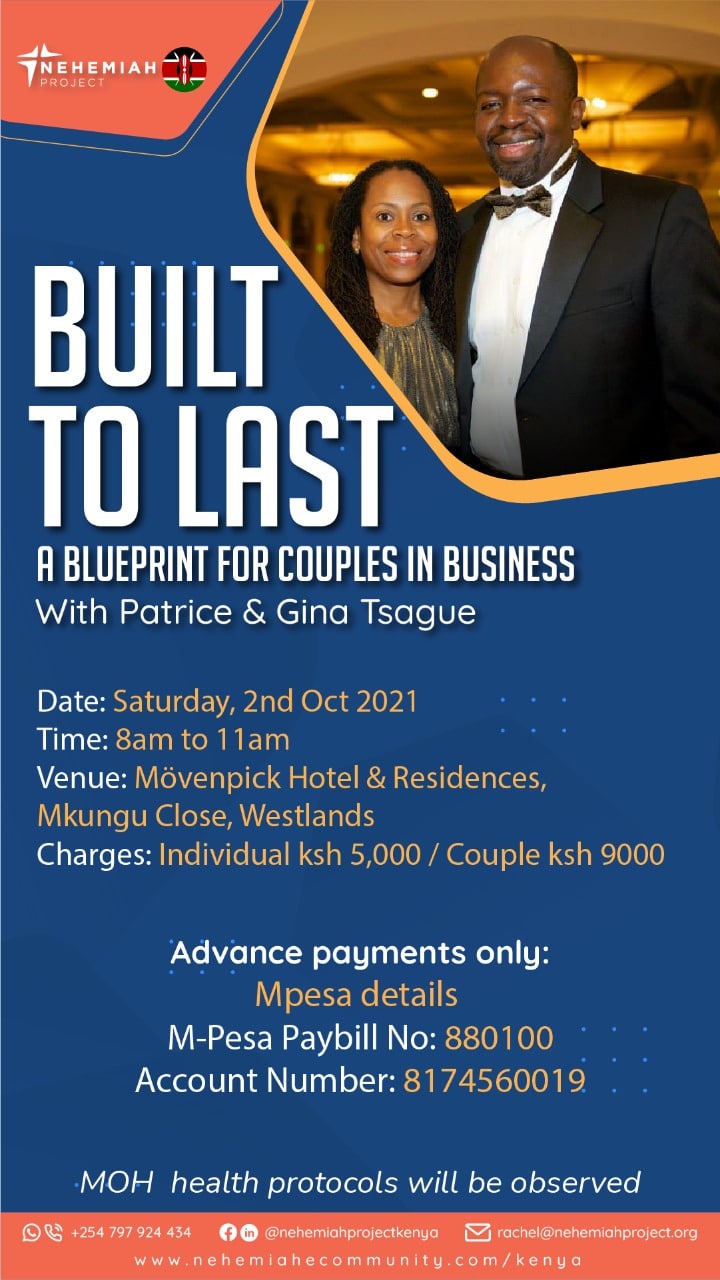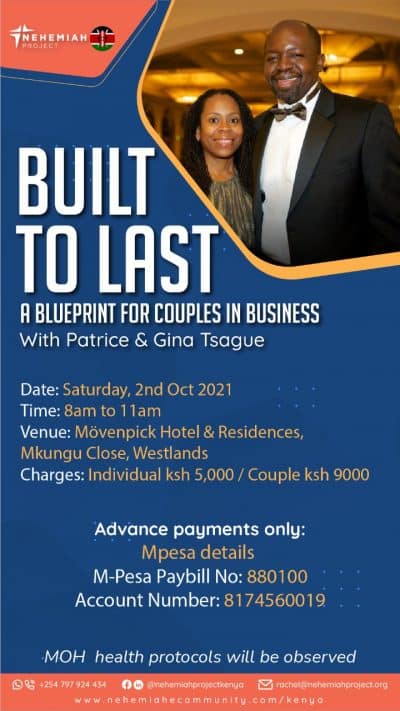 Build to Last – A Blueprint for Couples in Business
with Patrice & Gina Tsague
The two most difficult and toughest things in the world are building a successful, long-lasting, God-honoring, fun-filled marriage and building a profitable kingdom company because one deals with creating an enterprise that provides for the needs of God's people and the other creating a union that reflects the image of God.
These are the enemy's greatest threats, so he will work overtime to hinder us from realizing them.
We would like this session to start as a guide for couples towards developing a plan to fulfill God's plan for their family and business.
In this in-person seminar, Patrice and Gina Tsaque will address five key themes and answer key questions that every committed Christian couple who operate a business would want to know: –
a. Faith; how do we as a couple move from individuals to a union that conforms us to the image and likeness of God?
b. Family; how do we honor Christ through our marriage?
c. Business; how do we glorify God through our business?
d. Philanthropy; how do we worship God through our abundance?
e. Fun; how do we celebrate our success and God's goodness?
Join us on Saturday, October 2 2021 from 8:00 AM – 11:00 AM EAT at Movenpick Hotel & Residences, Mkungu Close, Westlands- Nairobic.
Register and make payment to save your seat:-
Individual Cost:- Kshs 5000 per person
Corporate Cost:- Kshs 9000 per couple
Payment Detail (Advance Payment Only)
M-Pesa Paybill No: 880100
Account Number: 8174560019
For more details, please contact +254 797 924434 or email rachel@nehemiahproject.org
Host: Frank Kitonga
Country Director of Nehemiah E-Community Kenya
Speakers: Patrice Tsague & Gina Tsague
Co-Founder of Nehemiah Project
*Use the Time Zone Converter below to check for the event time in your local time.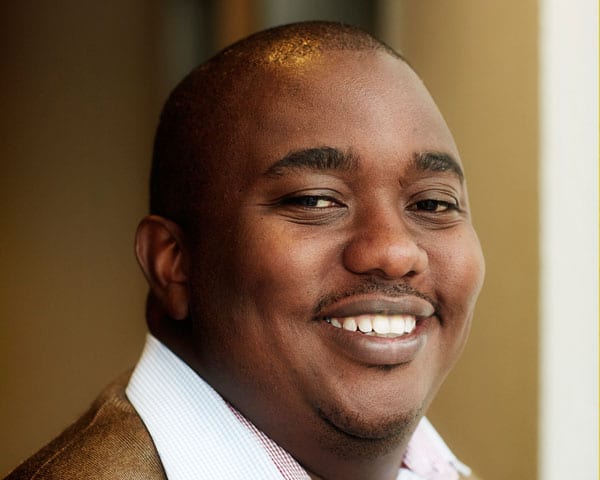 FRANK KITONGA is the founder of Blueflame International and a Certified Biblical Entrepreneurship Trainer and Coach who is passionate about transforming the marketplace through kingdom principles and creating impact.
He is happily married to his dear wife, Grace and they are blessed with 5 children.
As an Elder, he has served the church for more than a decade and has been serving in various other ministries for more than 20years.
He has many years of experience in business, having successfully grown multiple businesses. Among them is Nuru Social Enterprises (NSE), where he was president. He grew the business an unprecedented 4x in his tenure. In the same way, he built a global consultancy BoP Innovation Centre in the East African region from scratch to a vibrant business with a high-value portfolio.
Frank also has professional experience in supply chain, finance, procurement and information & communications technology, gained during his tenure in the corporate world.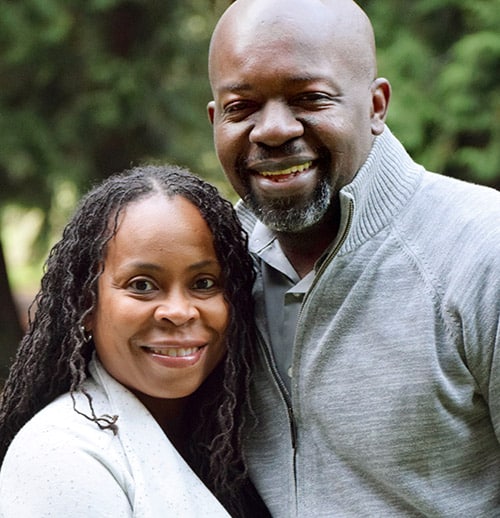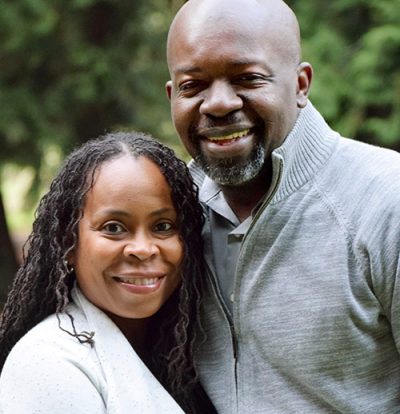 The Nehemiah Project was founded in 1999 by husband and wife Patrice Tsague and Gina Tsague in Washington D.C. Patrice and Gina both arrived in the United States in 1983, with Patrice coming from Cameroon, Central Africa and Gina from Haiti. During their high school years, they met at work and soon became friends. Patrice started his own business at the age of 18 and invited his best friend and chief encourager, Gina, to join him in his new venture. Through a series of events, this initial business idea evolved into the Nehemiah Project and Kingdom Business Coaching.
Patrice is a Christian business trainer, entrepreneur, international speaker, preacher, author, and business coach. Patrice specializes in helping families incorporate their faith into their business practices, ensuring that their businesses are able to exist beyond the third generation.
He has trained and coached over 15,000 individuals on how to start or expand their businesses using business training and coaching principles found in the Bible. Patrice is the author of several books and training curriculums. He also publishes a weekly e-devotional and podcast for entrepreneurs and business executives that are released to over 4,000 individuals globally. He also serves on the board of several organizations.
Gina Tsague is a woman of faith who has learned and still learning to walk in James 1:4: "My brethren, count it all joy when you fall into various trials, knowing that the testing of your faith produces patience. But let patience have its perfect work, that you may be perfect and complete, lacking nothing." She enjoys working alongside her husband, Patrice Tsague to transform the marketplace with the gospel of the Lord Jesus Christ while serving couples in business. She has served on various boards including Eastside FourSquare Church and Portland Christian Schools.
Patrice and his wife, Gina, have two beautiful children, Gabrielle and Danielle Tsague. The Tsague family resides in Vancouver, Washington.
Share This Story, Choose Your Platform!