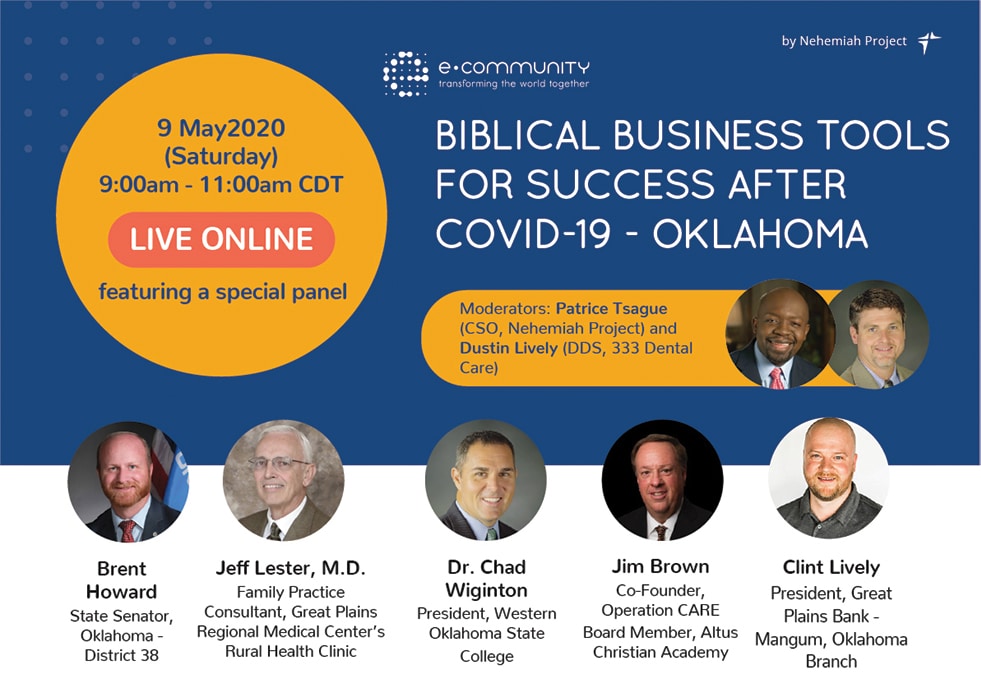 Oklahoma Forum – Biblical Business Tools for Success After Covid-19
9 May 2020 @ 9:00 am

-

11:00 am

CDT

|

Free
A Special Panel
09 May 2020, Saturday
9:00 AM - 11:00 AM CDT
So David inquired of the Lord, saying, "Shall I pursue this troop? Shall I overtake them?" And He answered him, "Pursue, for you shall surely overtake them and without fail recover all." - 1 Samuel 30: 8 (NKJV)
On April 16th, President Trump announced his desire and guideline to Opening Up America Again, which means that soon the restrictions will be lifted and we can all start going back to business. But as quarantine comes to an end in America, what are the guidelines for business success after Covid-19? Should we pursue what we lost? Can we recover? How do we pursue and recover all as David did when he faced a crisis in Ziklag? What spiritual and business tools are available to help us succeed? This panel discussion will include Christian business and spiritual leaders from a diverse background who will discuss how to successfully go back to business in this new normal. We will also share resources to help you succeed in the new normal.
Moderated by Patrice Tsague, CSO of Nehemiah Project, and Dustin Lively, DDS of 333 Dental Care
*Use the Time Zone Converter below to check for the event time in your local time.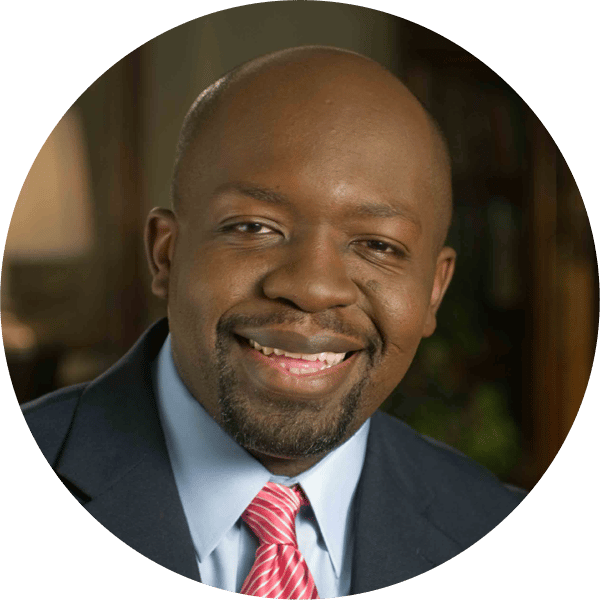 Patrice Tsague
Co-Founder and Chief Servant Officer of Nehemiah Project International Ministries and PG & Associates, LCC
Patrice is a Christian business trainer, entrepreneur, international speaker, preacher, author, and business coach. Patrice specializes in helping families incorporate their faith into their business practices, ensuring that their businesses are able to exist beyond the third generation.
Patrice is the co-founder and Chief Servant Officer of both Nehemiah Project International Ministries and PG & Associates, LLC, which he founded with his wife and best friend, Gina Tsague. Patrice is also the co-founder of Nehemiah Enterprise Coaching as well as Kingdom Business Coaching International. Patrice has trained and coached over 15,000 individuals on how to start or expand their businesses using business training and coaching principles found in the Bible. Patrice is the author of several books and training curriculums. He also publishes a weekly e-devotional and podcast for entrepreneurs and business executives that is released to over 4,000 individuals globally. He also serves on the board of several organizations.
Patrice and his wife, Gina, have two beautiful children, Gabrielle and Danielle Tsague. The Tsague family resides in Vancouver, Washington.
Dustin Lively
DDS, 333 Dental Care
Dustin grew up in southwest Oklahoma and after college went back to his hometown to join an established practice in dentistry. He and his wife, Tuni, both grew up in the small town of Mangum and felt it to be a great choice to be surrounded by family and raise children of their own. They have been blessed with 27 years of marriage and have three wonderful daughters, Loclynn (20), Lynsi (18) and Landri (13).
He has been practicing dentistry for over 22 years. After being introduced to Biblical Entrepreneurship in 2016 and going through the class, the way he sees business and opportunity has completely changed. One of his favorite quotes is, "The fastest way to change yourself is to hang out with people who are already the way you want to be" -Ben Casnocha. He lends much of the success and transformation he has seen in his life to those he has been introduced to through Nehemiah Project to include Patrice Tsague and Scott Landis.
In 2018 he chose to rename the practice 333 Dental Care after the scripture Jeremiah 33:3. Since that time, many things have begun to transform in his dental practice and is excited to have recently launched another business, EZ Sleep Solutions, to treat sleep apnea using oral appliance therapy. Additionally, he has been directly involved in helping to form a non-profit organization called Kingdom ComeUNITY which helps fund and organize many different community projects to bring kingdom principles to his region.
Dustin's passions include spending time with his wife and daughters, traveling, flying, fishing, always learning something new and ,of course, being a Biblical Entrepreneur!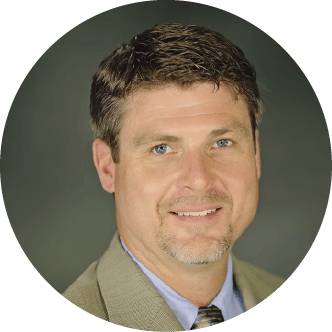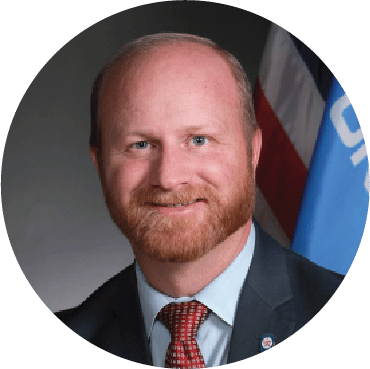 Brent Howard
State Senator, Oklahoma – District 38
Brent is a fifth-generation Oklahoman who was raised in Southwest Oklahoma. He grew up on the same farmland homesteaded by his great-grandfather before Oklahoma statehood.
After graduating from undergraduate studies at OSU, Brent attended OU College of Law and then obtained his LLM in Taxation from New York University. Brent chose to settle down in the Altus area and open a law practice there near his family's wheat and cattle operation. His law practice is mainly focused on estate planning and tax law.
Brent and his wife Jennifer attend the First United Methodist Church of Altus and are both active members and volunteers in their community.
Jeff Lester, MD
Family Practice Consultant, Great Plains Regional Medical Center's Rural Health Clinic
Jeff is a Family Practice Consultant at Great Plains Regional Medical Center's Rural Health Clinic in Elk City and East Central Oklahoma Family Health Center in Henryetta.
Married to Marilyn who served alongside him for 12 years full-time in medical missions. They have 5 grown children and 9 grandchildren. They reside in rural Okmulgee County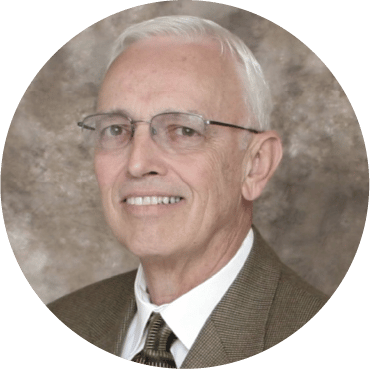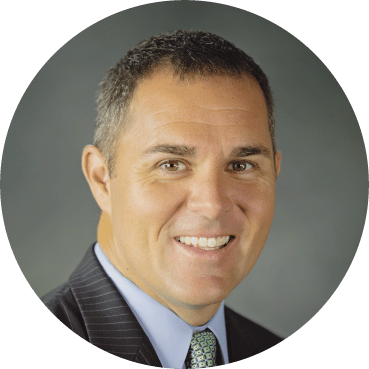 Dr. Chad wiginton
President, Western Oklahoma State College
Dr. Chad Wiginton is currently serving as Western Oklahoma State College's 6th president. He has been employed at Western for 20 years and has worked in academics, development, and student services. He has an Associate in Science from Western Oklahoma State College, a Bachelor of Business Administration from Belmont University, a Master of Business Education from Middle Tennessee State University, and Doctorate of Education in Higher Education Leadership from Northcentral University. He has been married for 20 years and he and his wife Ericka have a 13 year old son and a 7 year old daughter. In his spare time, he enjoys working with cattle and horses, playing racquetball, and spending time with family. Chad and his wife are both proud products of the Altus Public Schools. He is a deacon at the First Baptist Church, a member of the Altus Rotary Club, and an Altus Chamber Ambassador.
Jim Brown
Co-Founder, Operation CARE & Board Member, Altus Christian Academy
Jim Brown is a Kansas native. Farming and carpentry filled his days when not in school. He is an Abilene Christian University graduate and has spent most of his life in ministry with business ownership scattered along the way. He met and married his wife, Sharon in Altus, Oklahoma, where they make their home today. They have four sons (two of which are married), two granddaughters and a grandson. Jim has preached in dozens of churches and is currently the pastor of Friendship Baptist just northeast of Altus. He also holds a brokers license in real estate. He fills many roles in the community, recently developed a partnership between several congregations and local schools, helped found Operation CARE and is currently a board member of Altus Christian Academy. Jim's heart for unity is demonstrated in his life of ministry.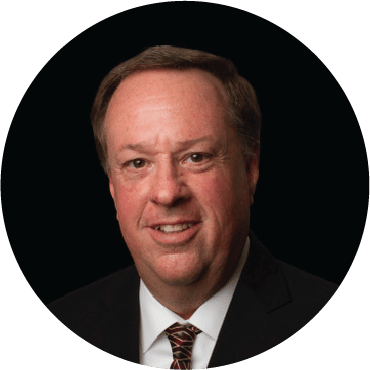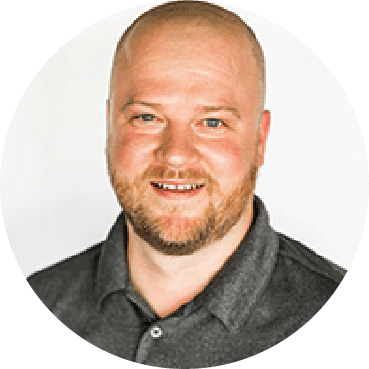 Clint Lively
President, Great Plains Bank – Mangum, Oklahoma Branch
Clint Lively has been president of the Mangum branch since 2019. Clint started at Great Plains Bank in 2014 as a loan officer after working in the health care finance industry. A Mangum, Oklahoma native, Clint graduated from Southwestern Oklahoma State University in 2010. When he isn't coaching his children's sports teams, Clint enjoys having cookouts and serving on community boards and committees in Greer County.
Share This Story, Choose Your Platform!