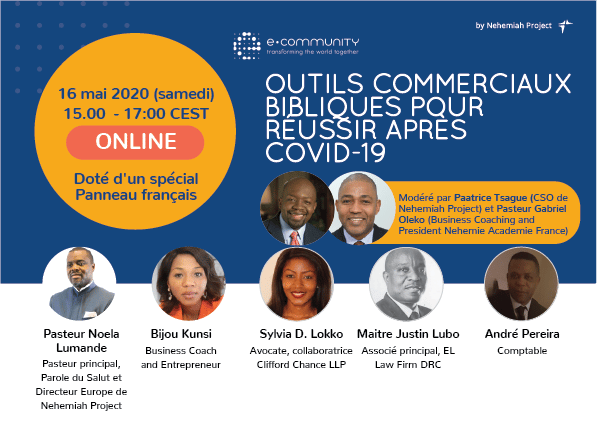 Biblical business tools for success after Covid-19
16 May 2020 @ 3:00 pm

-

5:00 pm

CEST

|

Free
A special French panel
16 May 2020, Saturday
15:00 p.m. to 17:00 p.m. CEST
David therefore asked the Lord, "Shall I pursue this troop? Should I exceed them? "And He answered him:" Pursue him, for you will surely catch up with them and without fail get everything back. " - 1 Samuel 30:8 (NKJV)
Now that the quarantine is almost over, businesses and borders will open up. How can we not only survive, but thrive? Should we continue what we have lost? Can we recover? How can we continue and recover just like David did when he faced a crisis in Ziklag? What tools are at our disposal to help us succeed?
Moderated by Patrice Tsague, CSO of Nehemiah Project
*Use the Time Zone Converter below to check for the event time in your local time.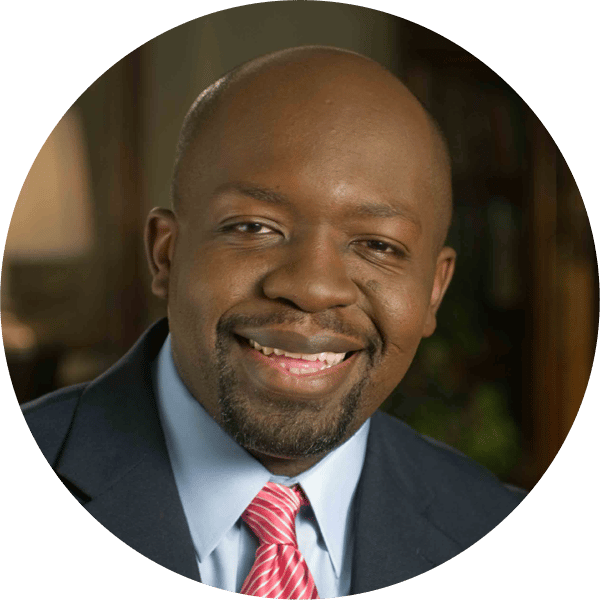 Patrice Tsague
Co-founder and chief agent of Nehemiah Project International Ministries and PG & Associates, LCC
Patrice is a Christian business trainer, entrepreneur, international speaker, preacher, author and business coach. Patrice specializes in helping families integrate their faith into their business practices, ensuring that their businesses can exist beyond the third generation.
Patrice is the co-founder and chief officer of Nehemiah Project International Ministries and PG & Associates, LLC, which he founded with his wife and best friend, Gina Tsague. Patrice is also the co-founder of Nehemiah Enterprise Coaching as well as Kingdom Business Coaching International. Patrice has trained and coached over 15 people on how to start or grow their business using the principles of business training and coaching contained in the Bible. Patrice is the author of several books and training programs. He also publishes a weekly e-devotional and podcast for entrepreneurs and business leaders which is broadcast to over 000 people around the world. He also sits on the board of directors of several organizations.
Patrice and his wife, Gina, have two beautiful children, Gabrielle and Danielle Tsague. The Tsague family resides in Vancouver, Washington.
Pastor Noela Lumande
Senior Pastor, Word of Salvation, and Europe Director of Nehemiah Project
Noela Lumande Saleh is a Doctor of Biblical Studies, trainer in biblical entrepreneurship, leadership and business coach, European Director of Nehemiah project, co-founder of Basilea training and founder of NL coaching.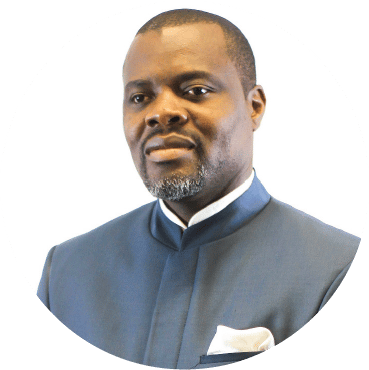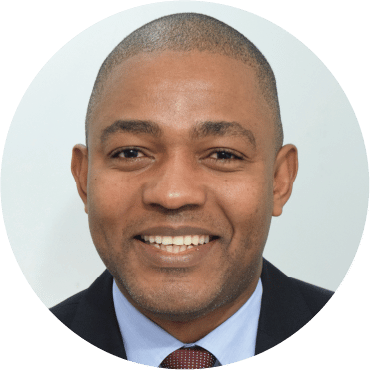 Pastor Gabriel Oleko
Senior Pastor, La Mosaïque Church
Pastor Gabriel Oleko is a devout Christian, loving father, husband, pastor, teacher, speaker, coach and entrepreneur.
He is the founder and president of Le Nouvel Horizon (BE program in France) and the founder of Basilea Training (BE program in DR Congo). He is also the founder of the private school Elevation Academy in Kinshasa, DR Congo. He is senior pastor of La Mosaïque Church located in Paris, France and regional director of the Nehemiah Africa project. He also sits on the board of directors of SEL (Compassion International France).
Pastor Gabriel is married to his lovely wife, Sylvie Oleko, with whom they share two wonderful children, Emmanuel and Dorothée.
Kunsi Jewel
Business Coach and Entrepreneur
Bijou Kunsi is responsible for the businessmen department of the Word of Salvation Church, Insurance Advisor, Entrepreneur, Director of the Nehemie Académie France training center, KBC certified Coach, Specialized in support for business creation and rental real estate investment.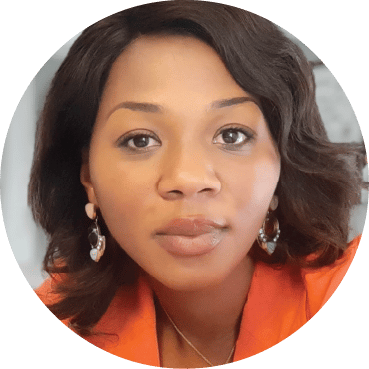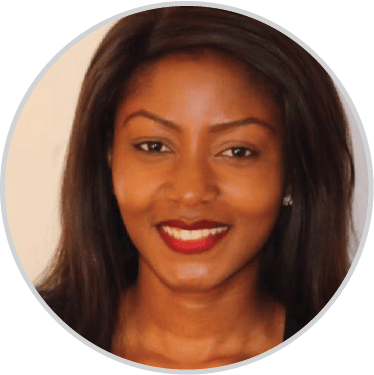 Sylvia D. Lokko
Lawyer, associate Clifford Chance LLP
Sylvia D. Lokko is a lawyer at the Paris bar. A graduate of the University of Paris I Panthéon-Sorbonne and of the University of King's College London, she holds an LLB in English law and French law and a Master II in business law. Associate lawyer at the Anglo-Saxon business law firm, Clifford Chance LLP, she mainly works on securitization, structured finance and real estate finance.
Master Justin Lubo
Senior Partner, EL Law Firm DRC
Attorney Justin LUBO KASONGO is a senior partner at the Kinshasa-based EL law firm in the Democratic Republic of Congo, and his business line is focused on the development of infrastructure projects and the electricity sector.
• Lawyer since 1995
• Adviser and chief of staff to several ministers
• Church elder for Word Of Salvation in Congo Kinshasa Congo
• Lead a morning of devotion to leaders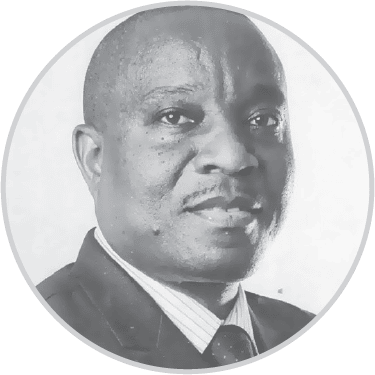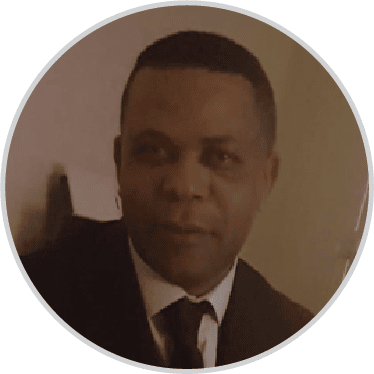 André Pereira
Accounting
André Pereira is an Accountant, Chartered Accountant Firm. Member of the Evangelical Mission of the Power of God (MEPUD) in Ile de France
Share This Story, Choose Your Platform!