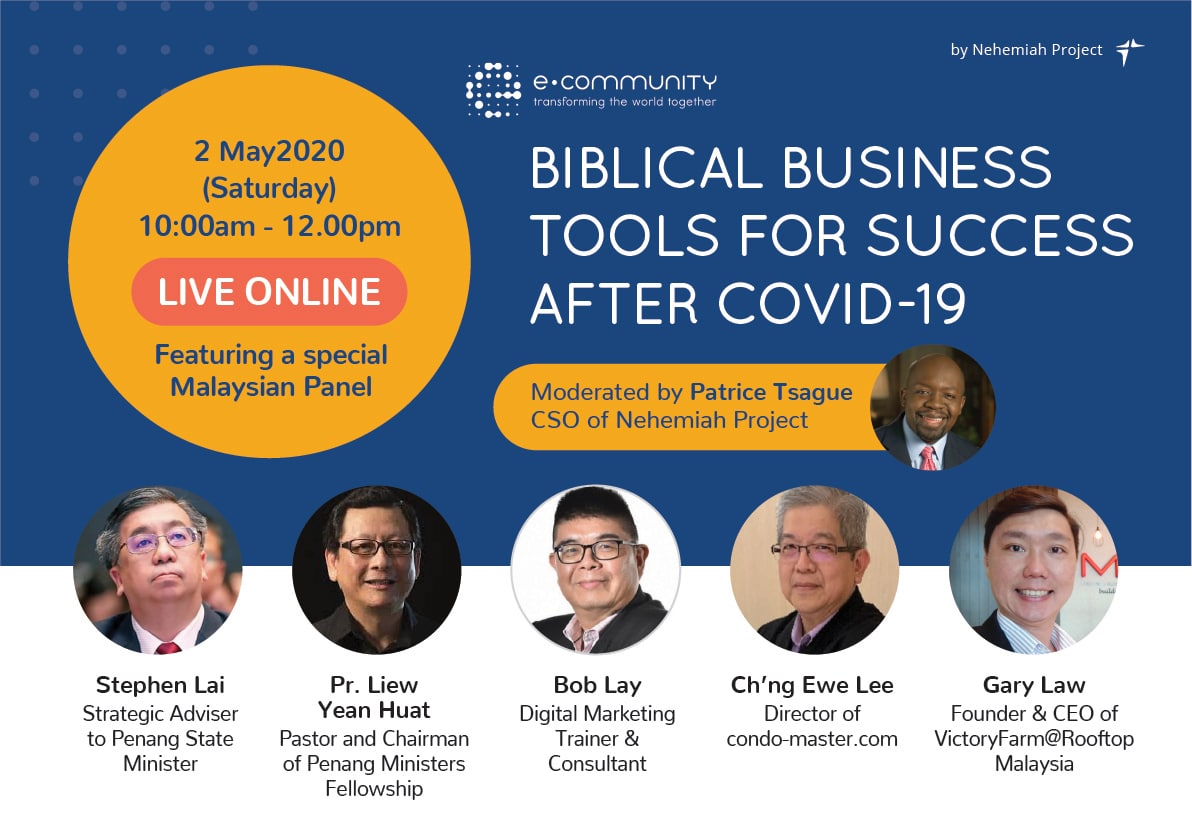 Malaysia Forum – Biblical Business Tools for Success After Covid-19
2 May 2020 @ 10:00 am

-

12:00 pm

SMT

|

Free
A Special Malaysian Panel
02 May 2020, Saturday
10:00am – 12.00pm Malaysian time
So David inquired of the Lord, saying, "Shall I pursue this troop? Shall I overtake them?" And He answered him, "Pursue, for you shall surely overtake them and without fail recover all." - 1 Samuel 30: 8 (NKJV)
Now that the quarantine is almost over, businesses and borders will be opening. How do we not just survive but thrive? Should we pursue what we lost? Can we recover? How do we pursue and recover all as David did when he faced a crisis in Ziklag? What tools are available to us to help us succeed?
Moderated by Patrice Tsague, CSO of Nehemiah Project
*Use the Time Zone Converter below to check for the event time in your local time.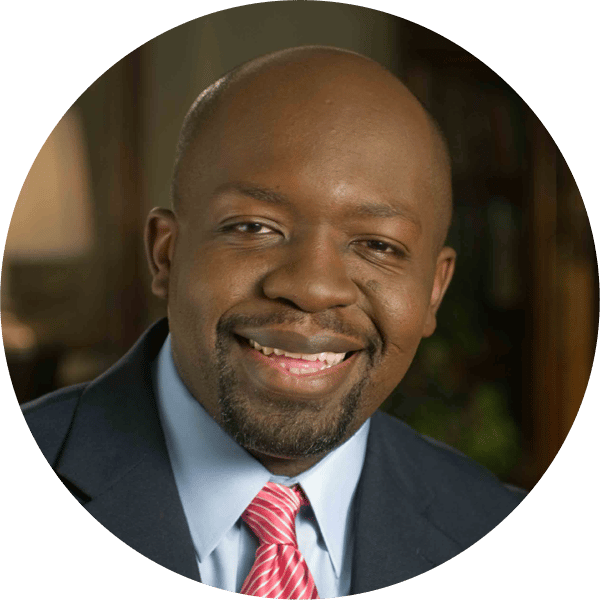 Patrice Tsague
Co-Founder and Chief Servant Officer of Nehemiah Project International Ministries and PG & Associates, LCC
Patrice is a Christian business trainer, entrepreneur, international speaker, preacher, author, and business coach. Patrice specializes in helping families incorporate their faith into their business practices, ensuring that their businesses are able to exist beyond the third generation.
Patrice is the co-founder and Chief Servant Officer of both Nehemiah Project International Ministries and PG & Associates, LLC, which he founded with his wife and best friend, Gina Tsague. Patrice is also the co-founder of Nehemiah Enterprise Coaching as well as Kingdom Business Coaching International. Patrice has trained and coached over 15,000 individuals on how to start or expand their businesses using business training and coaching principles found in the Bible. Patrice is the author of several books and training curriculums. He also publishes a weekly e-devotional and podcast for entrepreneurs and business executives that is released to over 4,000 individuals globally. He also serves on the board of several organizations.
Patrice and his wife, Gina, have two beautiful children, Gabrielle and Danielle Tsague. The Tsague family resides in Vancouver, Washington.
Stephen Lai
Strategic Advisor to Penang State Minister for Domestic and International Trade, Consumer Affairs and Entrepreneur Development in Malaysia.
Stephen accumulated over 25 years of diverse business, managerial, and entrepreneurial experience in Asia, acquiring deep knowledge and strong networks in ASEAN and China.
Serving in varied roles as CEO, COO, CTO, Investment Manager in industries such as Financial Data and Technology, Global Fund Management, Software Development, Education and Conferences, Stephen acquired multicultural leadership experience while managing direct offices in Singapore, Kuala Lumpur, Saigon, Bangkok, Mumbai, Hong Kong, Shanghai and Shenzhen.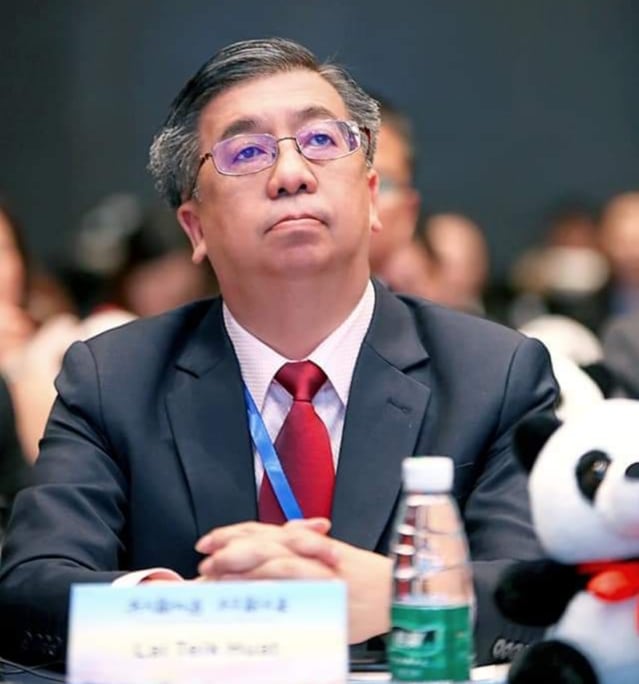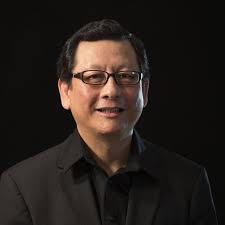 Pr. Dear Yean Huat
Pastor at Georgetown Baptist Church and Chairman of Penang Minsters Fellowship
Pr. Liew worked in Financial Services industry for 30 years before coming on board as a pastor of Georgetown Baptist Church for the last 9 years. Prior to being called into pastoral ministry, he was also the Deacon and Vice-Chairman of GBC since the 1990s.
In his pastoral ministry, He was overseeing the marketplace ministry and prayer/intercessory ministry besides, preaching and training. He is also currently serving in Prayer United Penang & PU Malaysia Committees and is the current Chairman of the Penang Ministers Fellowship (PMF).
Bob Lay
Digital Marketing Trainer and Consultant with DMC
He started his career in Media Production over 25 years ago and 9 years ago in Digital Marketing. He was heavily involved in the interactive TV project between Malaysia and China which raised USD 1.5 million from Softbank International, U.S. and USD 500 thousand from Excite, Japan. Bob is one of the pioneer staff during the set-up of NTV7 in 2007 and later the Head of Audio Visual for BERNAMA.
He has worked with multi-national companies, local SME and start-ups implementing content marketing campaigns and social media marketing strategies. The few companies to mention are P&G, NAZA TTDI, Celcom, Coca-Cola, Munchy's, Oat King, Tupperware Malaysia, ICAEW Global, Karcher, Yarra Norway, Jabatan Standard Malaysia and SME Bank.
Bob has helped many companies win digital awards including Best Use of Digital Media for P&G's Rejoice Campaign "Gadis Bertudung Hijau" in Malaysia Media Award 2015. As digital marketing consultant, he has been working with companies in enhancing brand presence online and generate leads with his creative digital marketing strategies.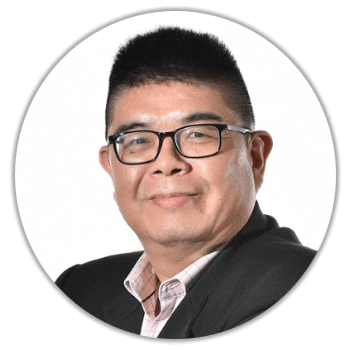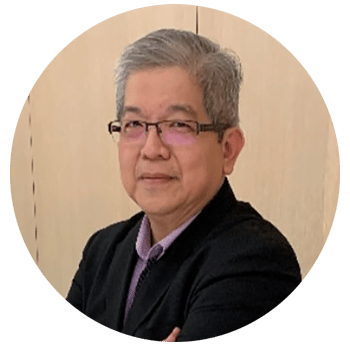 Ch'ng Ewe Lee
Director of condo-master.com
Starting his career in the IT field since 2014, Ch'ng is now a Director of Comet Catcher Sdn Bhd and invited to join PM 101 Sdn Bhd as a Board Director. He then started Hybridum Technologies Sdn Bhd and invested in A.I in Dec 2019.
Gary Law
Founder & CEO of VictoryFarm@Rooftop Malaysia a.k.a VF@RM
Started in 2016, VictoryFarm is the No.1 Rooftop Urban Vertical Farming in Malaysia, the first to introduce organic aeroponic soilless cultivation to fellow Malaysians. Gary worked in the finance industry for over 12 years and was appointed Regional Development Manager from his last position before leaving for his new journey. He ventured into hydroponics, aquaponics and now vertical farming systems via organic hydroponics or bioponic which his cultivation does not rely on synthetic nutrients but all natural plant based enzyme, simulating a natural symbiotic environment into the vertical farming systems, so that his customers can grow Fresh, Natural, Non Toxic veggies.
The innovation of vertical farming systems for homeusers led to the birth of VGROW TOWER. He then made the VGROW TOWER into a DIY kit, and now his products are able to be sold locally and globally. Today VictoryFarm@Rooftop Malaysia is being featured by 7 local media, awarded by FAMA, supported by MOA, footprinted not only nationwide, but also have stepped out to South East Asia, furthest to Italy.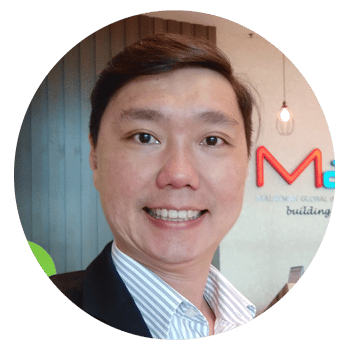 Share This Story, Choose Your Platform!